Home.Html



[[break free]]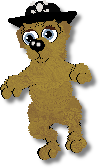 //updates?\\

we are hosted by luli@chestnut

[6]
Sister Sites








be a sister site

[19]
Labz For Adoption



hey there and welcome to labz galore! i am an old veteran of the petz community coming back to find a spot in the new circle of petz lovers. hope you enjoy the site!



Updates & Tagboard

Top Petz Sites





Clique





feel the passion

[I'm from Sydney, Australia]
I'm against stealing!




Pets

a gift from the lovely amber@flummery!


pet's name: coco
adopt your own!